Quality beautiful Cavalier King Charles
Spaniels in Dallas–Fort Worth Texas since 1990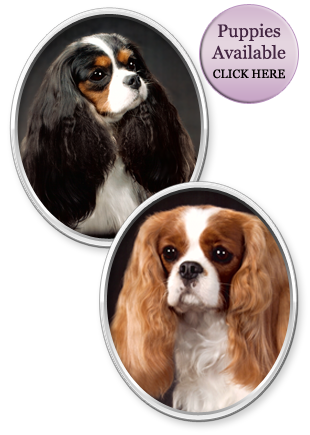 Welcome to Luxxar Cavalier King Charles Spaniels, a breeder located between Dallas and Fort Worth in Arlington, Texas. For over 20 years, I have been dedicated to breeding healthy, happy, beautiful Blenheim and tricolor Cavaliers.
Health is my top priority. In addition to regular wellness care provided by my trusted veterinarian, all my Cavalier King Charles Spaniels are heart certified by a cardiologist, CERF eye certified and patella cleared.
With over 70 Cavalier championships, Luxxar Cavaliers is still going strong and recently finished 5 homebred AKC champions in less than a year. I am also honored to be a judge in the Cavalier King Charles Spaniel Club, USA. I occasionally have Blenheim and tricolor puppies for sale as cherished companions. Please visit my Puppies page to learn more about getting a Luxxar Cavalier.
Paula Campanozzi
News Flash!
Luxxar Real Deal Druzy of Glenellen
Congratulations to Teresa Murphy on her exciting wins with Luxxar Real Deal Druzy of Glenellen, including the Cavalier King Charles Spaniel National Specialty weekend. Co - owned with Paula Campanozzi. Thank you to all the judges who have recognized the quality of this Cavalier. We are so glad this promising puppy has grown up to experience such success and make her breeder proud.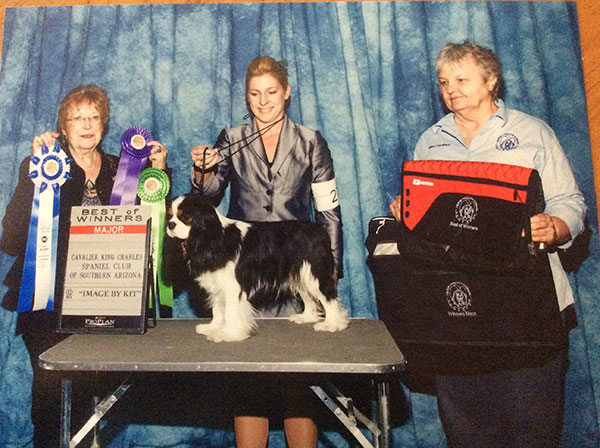 Luxxar Real Deal Druzy of Glenellen winning Best of Winners under Cavalier breeder judge Jan Gallagher for a major at the Cavalier King Charles Spaniel Club of Southern Arizona.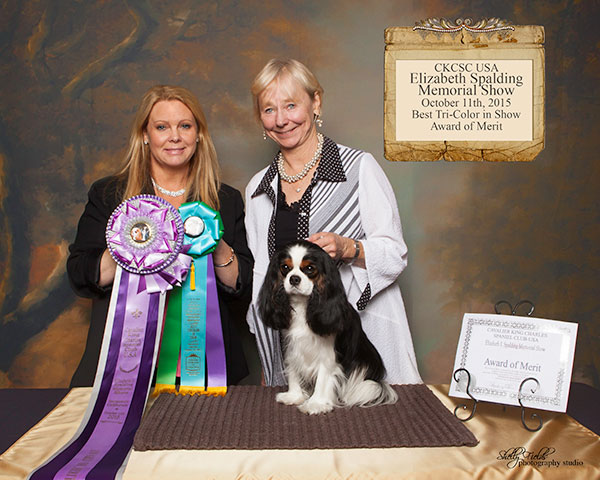 Druzy winning Best Tri-Color in Show and an Award of Merit under Cavalier breeder judge Heidi Mohn at the Elizabeth Spalding Memorial Cavalier King Charles Spaniel Specialty Show on October 11, 2015.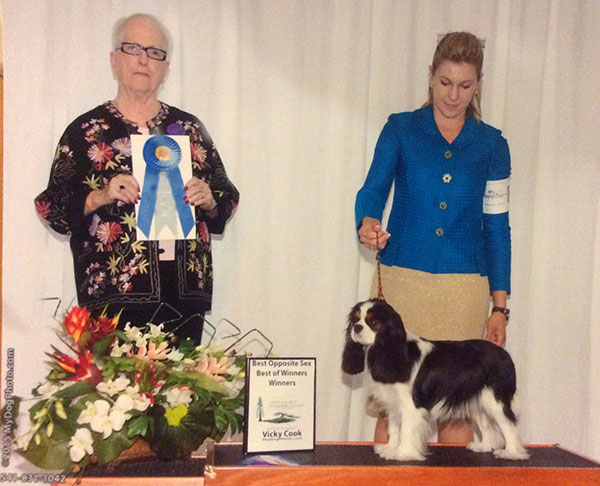 Druzy winning Best of Opposite Sex and Best of Winners under judge Eva E. Berg.